All of you know that I'm a sucker when it comes to animals. Well, the same goes for animal movies. I happen to have a digital code to giveaway for Think Like A Dog! WooHoo!!!
Now, I haven't had the opportunity to watch Think Like A Dog yet. I'll get to see it on June 9th when it's released. I'm super-excited. Have YOU heard anything about the movie?
Josh Duhamel and Megan Fox star in this whimsical family comedy about a boy and his dog, and a science project that will change all of their lives forever. Think Like a Dog follows 12-year-old Oliver, a tech prodigy whose middle-school science fair experiment goes awry, creating a telepathic connection between him and his furry friend, Henry. The bond brings Oliver and Henry even closer as they join forces to comically overcome complications at school, and help Oliver's parents rekindle their marriage along the way.
The Think Like a Dog special features include an audio commentary with writer-director Gil Junger and a making-of featurette, allowing an inside look at what it took to make this family-friendly flick. The Think Like a Dog Blu-ray and DVD will be available for the suggested retail price of $19.99 and $19.98, respectively.
I have a fun, Think Like A Dog word game for your kiddos. You can download it by clicking below-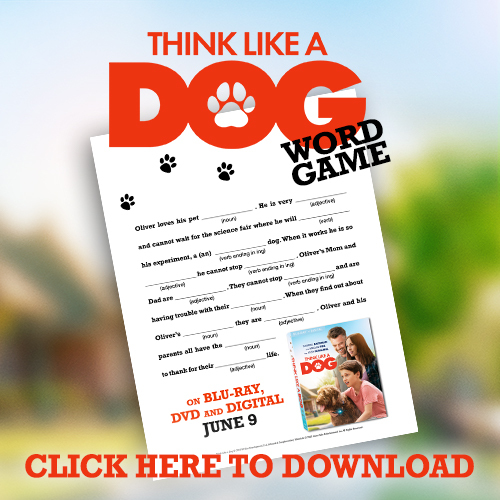 LET'S GET ON TO THE GIVEAWAY
This giveaway is for a Think Like A Dog digital code. This giveaway ends 6-23 and is open to US residents. The winner must reply to the winning e-mail within 48 hours or I will have to choose a new winner. It is a rafflecopter giveaway, so please give the form time to load.
Thank you all and good luck to all of you! By the way, have you checked out the other giveaways here at Sonya's Happenings…?
If you're a sponsor and would like to work with Sonya's Happenings… to have your spectacular products and brand featured by me for this or future gift guides, you can contact Sonya at sonyasparks@gmail.com ~
Sonya's Happenings… product reviews, giveaways and gift guides are the perfect place to get your products noticed!